Client
World Access
Servaices provided:
World Access
Making travel insurance make sense
Challenge
When the second-largest travel insurance provider in the US asked us to simplify their base policy, it was just like most travel insurance policies – inscrutable to everyone outside the business. AccessAmerica, a division of World Access, wanted to stand out by creating a policy that customers would be able to actually understand, and one that would convey the team's knowledge and their passion for travel.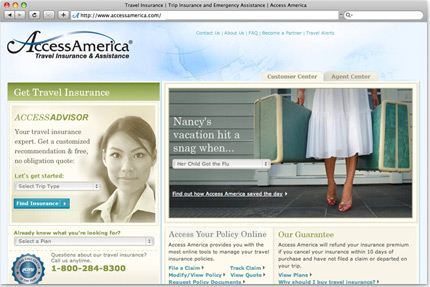 Solution
We interviewed subject matter experts in areas like claims, customer service and sales and marketing to make sure we understood not only the meaning and intent of the policy, but also the business context – competitive pressures, market challenges and customer needs.
Simplifying also meant carefully scrutinizing and dissecting the policy. We interviewed people like product managers and underwriters to understand the wording in detail, so we could draft accurate documents that would meet the expectations of insurance regulators in each state.
Result
We helped create the simplest travel insurance policy in the market. It's clear, friendly and organized from the perspective of a customer – not a lawyer or claims expert.
So now it's easy to know what you're covered for, what you're not, and when. Simple. Unlike packing for your trip. (There are some things even we can't make easier.)